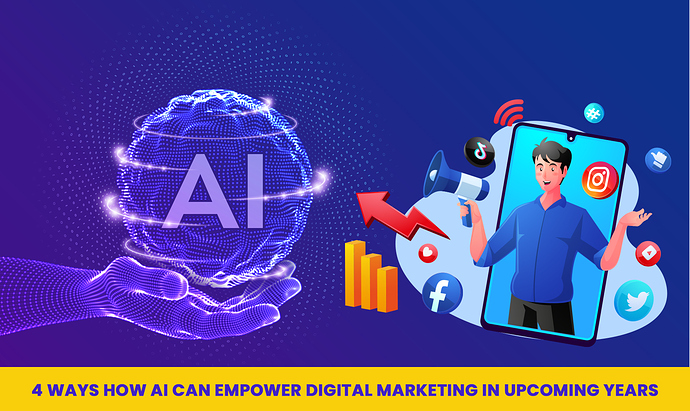 Undoubtedly, Artificial Intelligence (AI) is here to stay. You likely use AI daily, whether using voice assistance on the phone, social media, or Google search.
There are so many day-to-day tasks involved with AI in one way or the other. So, AI also factors into digital marketing campaigns.
The question is how AI affects digital marketing. What do you need to know & how does it affect your business?
Here in this article, a few digital marketing agencies have complied research on the above question & more. So let us get started.
How Do AI & Machine Learning Work Simultaneously in Digital Marketing?
The essential purpose of AI in marketing is to make life easy for marketers.
Jobs like customer segmentation, data collection, data analysis & more are handled by AI, which means challenging tasks.
It would historically take hours & can be done in a fraction of the time with minimal human input. Essentially, AI takes data & converts it into something beneficial for you.
How do AI tools affect Digital Marketing Campaigns?
So, by now, we have understood that AI tools help you to boost your speed & overall efficiency while planning & implementing & digital marketing campaigns.
But what exactly can you use AI for? Let us have a look at it.
1. Advanced Profiling-
Each & every business understands the need for profiling. With an in-depth understanding of the target audience, you can tailor marketing to match.
Knowing the ideal customer profile allow you to segment & customize emails & other content to meet the exact needs & expectations.
According to research done by Deloitte, simply including your customer's name in the respective email can influence open rates by 5.2%.
While more bespoke emails can be seen between an 11%-55% increase.
However, collating customer data & customer experience into a handful of prospective customers would take time.
Fortunately, AI happens to be so unique in doing precisely this. AI enables you to complete complex customer segmentation jobs in real-time.
It crunches billions of data points into tailored, unseeable customer profiles based on geolocation, customer behavior, customer data, previous interactions & so on.
2. Personalize The Campaigns-
None is eager to receive bland & generic marketing messages. The difference between 'Hi there' & 'Hi Martin' is astronomical.
If some individuals speak directly to us, we naturally feel more important & are entirely engaged. AI allows the creation of an ultra-personal experience for the respective audience due to the aforementioned advanced profiling.
It means you get a chance to create various tailored campaigns that are segregated & are optimized by AI.
Everyone will receive comms addressing the specific pain points.
It allows helping potential customers to see that you are getting a better understanding & get to know how exactly to help.
Blanket campaigns often need to be addressed. So, personalization is the key. AI will allow you to segment your audience accurately.
This is applied across social media & other marketing channels, meaning your messaging remains consistent.
3. Predictive Marketing-
Predictive marketing is a concept that has been introduced previously, but AI allows you to gather results in real-time rather than taking weeks. Not flawed is the idea. Isn't it?
This marketing process allows you to ensure that the marketing campaign is customized & goes out at the right time.
It hits the audience at the precise moment they are likely considering the purchase.
4. AI-Powered Chatbots-
Few individuals prefer talking to robots rather than ordinary humans. So, offering them the option to do so is very important. It is easy & quick.
Chatbots have emerged to be more robust & have come a long way since their inception. Implementing AI to help guide your users to the answers they are after.
This means that any problems that the users may be having can be solved on an immediate basis. It boosts customer loyalty & saves support team hours.
Chatbots can be integrated seamlessly into most CRM & there are loads of different options for you.
If your digital marketing campaign curated by digital marketing experts drives more traffic to your website, then a chatbot is the perfect way to ensure that users have the best experience.
This ensures there are no surprises & that you know exactly what people are saying about your business as & when it happens.
It allows you to respond promptly & appropriately or join the conversation to create an optimistic impression of brand building & loyalty.