We released one of the most requested features in the last year - allow users to vote without having to log in. As one of our premium users put it:
I know of sites that I have to register for, I will NOT vote unless there's a major incentive for me to do so.
So when you use Listly to make a list and embed it in your blog, you want engagement, but many of your readers might be reluctant to sign in just to vote.
The new release changes all that. And then adds additional emoji voting for more fun!.
Note: Anonymous voting is a premium feature. It's available only on free premium lists OR if you are a premium user, on all of your lists
Here's how it looks:

The Thumbs Up is still there to upvote an item, but there's also an emoji next to it. Clicking on the emoji bring up a menu of emojis that a user can attach to the item: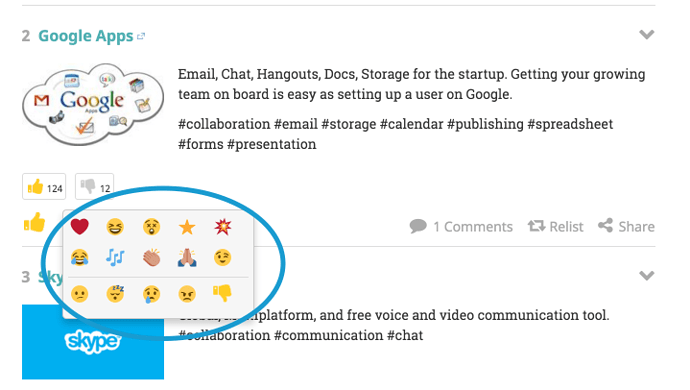 The reader can now select any of the emoji to show their feeling towards an item. Here's how it looks when its done:

A few notes:
Both logged in users and anonymous users can vote
Anonymous users can only vote one per emoji unless they use a different browser/computer to vote again
You can turn off voting completely or turn off voting for anonymous users